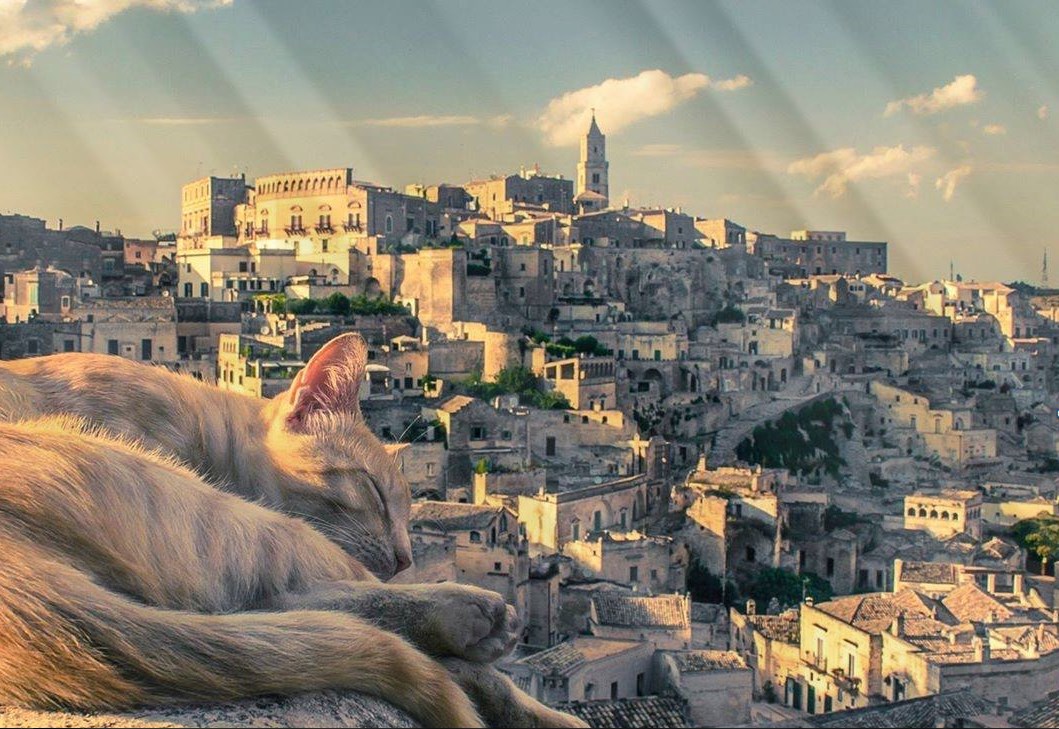 Matera - la mia città in Basilicata!

" Matera is the only place in the world where people can boast to be still living in the same houses of their ancestors of 9,000 years ago. "
Discovering the Ruins of Italys Ionian Coast By Helene Stapinski March 6, 2015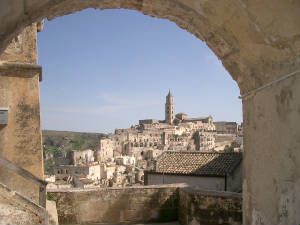 Basilicata > Ten Good Reasons to Visit Italy's Secret Garden
Never heard of it?! Here's your Intro to Matera - a little known town at the instep of Italy's boot!
Matera, Italy From Wikipedia, the free encyclopedia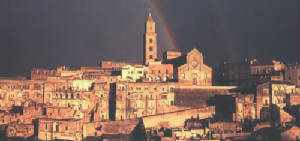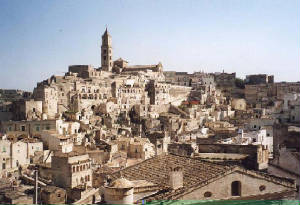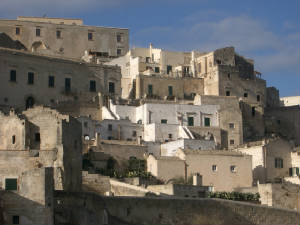 Matera is one of the most ancient towns in the world because of the continual presence of mankind documented from the beginning of the IV millennium B.C. (Neolitico 3900-2900 B.C.) to the present. From the many belle piazze di Matera one can see the extraordinary panorama of the Sassi and of a high plateau, referred to as the Murgia, this latter situated beyond a gaping ravine. 90% of the terrain is mountainous and hilly and made of calcareous rock.

Houses fold into each other and the roof of one becomes the floor of another or a neighborhood sidewalk. Benedictine monks came here starting in the 600 A.D. to seek refuge from religious persecution. Today throughout Matera and its countryside there are more than 130 rock-hewn churches, many containing well-preserved fresco paintings. After the monks abandoned their cavernous homes, the peasant, the indiginous people of the countryside occupied the caves until the early '50s when the prime minister of Italy at the time, DeGasperi, moved all 20,000 of them into brand new apartment buildings (designed by top Italian architects). The Sassi, for the most part, remained abandoned until the early '90s when UNESCO took an interest and claimed them a World Heritage Site. Today the Sassi are 40% occupied. Several laws passed since 1986 to help underwrite the restoration process.

Matera è una città di 57.000 abitanti (circa 20.000 abitano al centro storico e nella zona dei Sassi). Si trova a 480 km da Roma e 270km da Napoli, soltanto 100km da Potenza e 65km da Bari (in Puglia). Se volete arrivare qui sarà molto più facile prendere l'aereo da Roma per Bari e poi c'è il treno privato (chiamato F.A.L.) che arriva direttamente a Matera.

Matera Renaissance New Life in Italian Ancient Cave City Aug 2017
Matera A City Rediscovered from Travel Ideas Italian Tourism Site
The miracle of Matera from city of poverty and squalor to hip hub for cave-dwellers Jun 17 2017
The third-oldest continually inhabited settlement in the world Feb 13 2017
The real-life Flintstones village DailyMail Apr 19 2016
A Sassi Life in Matera Part I e II APRIL 4, 2016 Italian Notebook
Five Reasons to Visit Basilicata Jan 15, 2016 Italy Magazine
A Cave with a View BY D. T. MAX APRIL 27, 2015 Matera, once seen as uncivilized, is now prized for its ancient ways.
Discovering the Ruins of Italy Ionian Coast By HELENE STAPINSKI MARCH 6, 2015
Matera A Beautiful and Fascinating Cave Town October 2014 By Eleonora Sepe
Arounder : Matera : City Tour : Panoramic views zoom in/out by ©2012 VRWAY Communication
Southern Italy's Matera will rock your world March 2014 TORONTO SUN
The Towns Italy Forgot - from the Sept 2011 issue of National Geographic Traveler
Italy Day Trip: Matera by Tim Jepson May/Jun-2011
Basilicata, Rock Hard And Still Untamed...New York Times
Basilicata, a masterpiece waiting to be discovered. Of all Italys regions, Basilicata is arguably the least well known. The region was originally known as Lucania and today, people from Basilicata still describe themselves as Lucanian.
Cave Chronicles from Southern Italy
Another NYTimes article on Matera! Nov 18 2010
The NY Times just loves MATERA! 4th article: Luxury Transforms Caves Into Hotels